Still no home after waiting 10 years
13/04/2004 The Star
BUSINESSMAN Sharidan Omar and his five children have been looking forward to to the completion of their new home in Bayan Lepas, Penang, since 10 years ago.

But they had waited in vain as the Sri Bayu housing project was abandoned following financial and management problems faced by the developer.

Sharidan, 42, said he felt cheated as the project had not been completed although three developers tried reviving it since it was first launched in 1993.

"None of the efforts to revive the project was successful,'' he said.

"The past 10 years had been difficult for me. With my low income, I have to pay the house rental and the housing loan which I took to buy this unit," he said.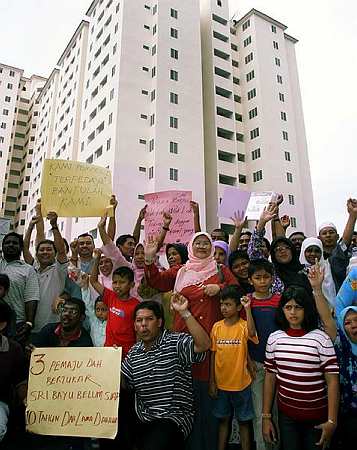 Housebuyers gathering outside the housing project.

Sharidan was among some 300 housebuyers who attended a meeting to hand over a memorandum to Prime Minister Datuk Seri Abdullah Ahmad Badawi through Bayan Lepas assemblyman Syed Ameruddin Syed Ahmad at the Cultural Hall in Kampung Seronok on Sunday.

Another affected houseowner is laboratory assistant Embun Said, 37, who bought a unit in 1999 when the first attempt to revive the project was made.

Embun said she thought the problems were finally over and was early waiting to own a place of her own after having stayed in a rented home for more than five years.

"It is not fair that the buyers, who are mostly poor people, should be the victims,'' she said.

Syed Ameruddin said the housing project comprising 234 low-cost and 496 medium-cost units had not been completed due to various "internal and external" problems faced by all three developers.

He said 730 Malay families were affected with nearly 25% of them not being able to repay their bank instalments.

"Most are from the low income group. They have always wanted to own a house and this project turned out to be a big let-down," he said, adding that he would help the buyers bring the matter to the authorities.

Syed Ameruddin said the buyers had also formed a committee to revive the project, which was nearly 90% completed.